Offered for sale for a limited time is the IALHA registered 1/2 andalusian National Champion Senoir mare Escandolosa. This mare won senior mare, and gold medal best mover at Nationals. She stands 16.3 hands and is 8 years old. She has been started under saddle but has not been ridden in about two years because she has been having exceptional foals. She has been covered by El Chupacabra a purebred andalusian stallion and will have a LFG and foal will be registered with the IALHA. This mare is being offered for sale for $7500 in foal with a LFG if you don't want the LFG the price is a bit more negotiable.
. I have more pics please email or call.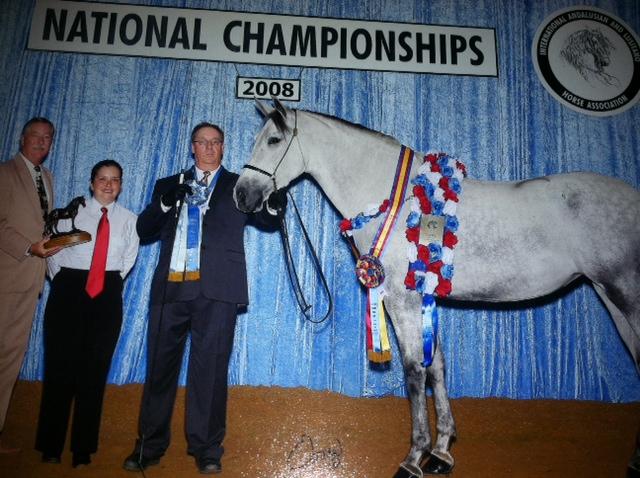 This Mare is an excpetional mover and is a great mother. She will be an excellent addition to any quality breeding program or continue her under saddle and have a show stopper. You can't go wrong either way.


We currently have two andalusian cross yearling fillies avaible. The first one is by our mulit National Champion performance stallion Falcario (by Cordero). This filly will be grey, she is very graceful and have excellent confirmation. She has flat knee action and nice reach at the shoulder. She is out of a grade paint mare. This filly is registered with the IALHA 1/2 andalusian. She leads, ties, stands for farrier and is up to date on everything. She is a boarders filly that I am helping sell for them. They are asking $2500 for this girl and she is work every penny.
The other filly we have for sale is a double registered half andalusians. She is registered with the IALHA and the Azteca Registry. This filly will also be grey and she should mature to about 16 plus hands. She is very stocky and has amazing movement. She is by El Chupacabra and out of a foundation bred quarter horse mare. The asking price on this filly is $3500 obo.
(we are working on getting pics of the fillies loaded onto the web page, feel free to email me for pics of them).